Independent probe backs city school after abuse claims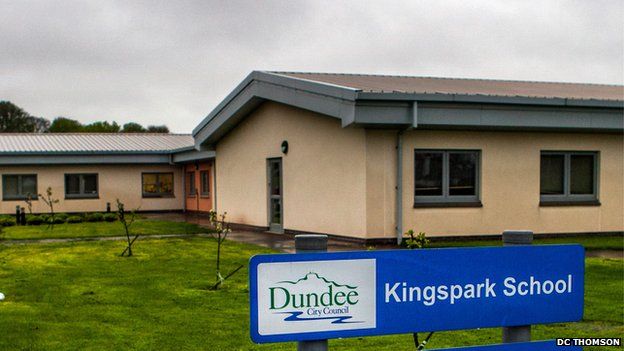 An investigation has backed a Dundee school after claims pupils were abused.
A group of parents had raised concerns going back to 2010 about pupils coming home from Kingspark School with bruises.
Independent education consultant Alistair Marquis made a number of recommendations to improve procedures, but said there was "no cause for concern" for pupil safety.
Parents said they were "extremely disappointed" by the report.
Kingspark School caters for about 175 pupils who have special educational or support needs, and in some cases physical or medical problems.
The independent review, commissioned by the Dundee Child Care and Protection Committee ran from December last year until March.
Mr Marquis, who has an extensive background in education and child protection, visited the school and interviewed parents and staff during his review, which was tasked with investigating whether the council had responded appropriately to the concerns of families.
He said there was "headroom for improvement" in school procedure, but had no concerns about the safety of pupils.
He said: "Having scrutinised all evidence available to me, I am satisfied that the council enacted their child protection procedures correctly and as promptly as it could in each case, once concerns were drawn to the attention of relevant staff.
"I spent time in the school observing practice and saw nothing that raised concerns about how staff ensured children's safety and wellbeing."
In relation to the specific allegations made by parents, Mr Marquis said it was possible that restraint procedures used as a last resort could "unintentionally" cause bruising to children, but underlined his belief that no-one had set out to deliberately harm pupils.
He did, however, make a range of recommendations to improve practice at the school, including communication between the school and parents, and how staff deal with challenging behaviour.
The report also found that the correct reporting procedures had not always been followed, which caused delays and made the gathering of evidence difficult.
Dundee City Council chief executive David Dorward said the authority was committed to implementing the improvements recommended by the review.
He said: "Any changes or additions to the council's policy and procedures which are suggested by the review will be made in time for the new school year in August."
However, a spokesman for the group of seven concerned families said they were "extremely disappointed" that the review had focused mainly on policy and procedure rather than their specific complaints.
He said: "We believe that the true extent of abuse and answers to why these incidents happened to our children will only be found by the commission of a significant case review, not a review such as the one by Mr Marquis into policies and procedures.
"Policies and procedures did not lead to the abuse and neglect of our children. Individuals were responsible - they need to be held to account."
Police initially investigated complaints from the parents of one child, but concluded no crime had been committed.
However, the Police Independent Review Commissioner upheld a complaint from the boy's parents that officers had not interviewed school staff individually, but had instead allowed the school's head teacher to gather evidence and present it to them.
The school was visited by Her Majesty's Inspectors of Education (HMIE) at the end of April, with a report expected in due course.
Related Internet Links
The BBC is not responsible for the content of external sites.