Family in court over burial of Black Watch soldier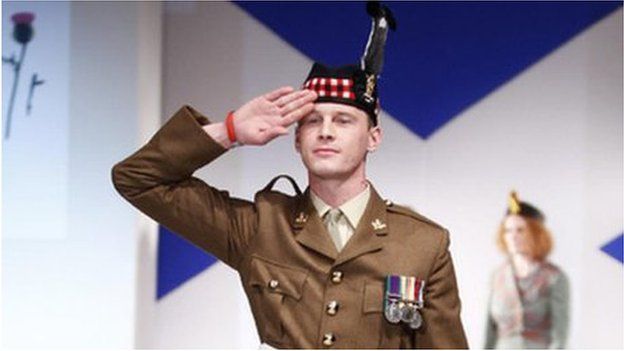 The widow of a Black Watch soldier and his mother have gone to court over where he should be buried.
Pte Mark Connolly, 24, died in May 2011 after being punched by a fellow soldier in a pub fight in Germany.
His body has been in a morgue in London ever since. His wife Stacy wants to bury him in Forfar, while his mother Linda McComiskie wants him laid to rest in the family plot in East Wemyss.
The case is being heard at Forfar Sheriff Court.
Pte Connolly, originally from Methil, survived a Taliban bomb blast while serving in Afghanistan in 2009 which killed one of his 3 Scots comrades.
However while stationed in Germany in 2011, he was killed by a single punch from fellow Black Watch soldier Pte Paul McKay, who was later cleared of manslaughter by a court martial.
A civil hearing at Forfar Sheriff Court heard that Pte Connolly's wife Stacey wanted him to be buried in a "colourful" service in the Angus town where they lived.
However, his mother Linda McComiskie, the executor of his will, contested this, saying he should be buried by his grandfather at Macduff Cemetery in East Wemyss, Fife.
Both women were in tears as evidence was presented in court, with Ms McComiskie claiming Mrs Connolly was "jealous" of her "close" relationship with her son.
The two met to discuss the funeral after Ms McComiskie discovered Mrs Connelly had already started making arrangements for the funeral in Forfar.
She said: "She was crying and begging me - I did feel bad.
"But I said it wasn't what Mark wanted.
"I said they can have a service in Forfar but he has to come back to Fife to be buried with his grandfather.
"All his family are there - he doesn't have a family in Forfar."
Mrs Connolly said her husband had named her as the executor in his will after their wedding in February 2009, but changed it after a senior officer wrongly told him he couldn't.
She also said he had told her in a "private conversation" shortly before his second tour of Afghanistan that he wanted to be buried beside her if he died.
The 29-year-old widow, who plans to be buried next to her brother in Forfar, said: "I'm here to carry out my husband's wishes.
"We're talking about who has the right to bury him and who decides where and how it happens."
Sheriff Valerie Johnston will receive written submissions from lawyers for both sides later this month before making her decision.
Related Internet Links
The BBC is not responsible for the content of external sites.