Police probe after pet cat shot dead with air rifle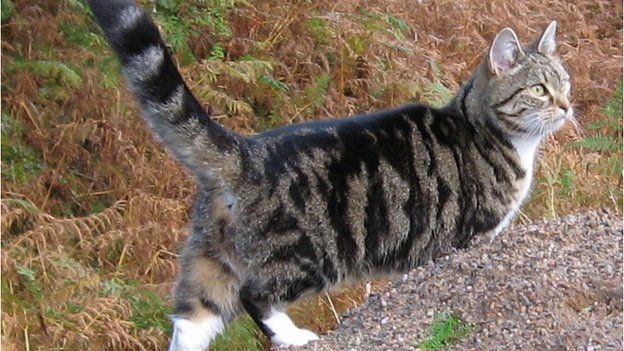 Police are investigating after a pet cat was shot dead with an air rifle in Carnoustie.
The fatally wounded seven-year-old female tabby cat was found by her owner on a grassy embankment near Barry Buddon Burn at 13:00 on Saturday.
Owner Henry Blaine and his family had been searching for Wowzer since Thursday evening, and he said her death was "like losing part of the family".
A specialist pellet appeared to have been used in the shooting.
Wowzer was found on the south side of the Barry Buddon Burn, near a footpath that runs alongside houses on Macdonald Smith Drive.
Mr Blaine said a specialist "Prometheus" pellet used for hunting had been used in the shooting, which may narrow down who the killer was.
"The SSPCA did an x-ray and confirmed that the cat had been shot," he said.
"It wasn't an everyday, run-of-the-mil pellet - it was a Prometheus pellet, the sort of pellet that would be used by a gun enthusiast to get high performance or more killing power.
"Whoever did this was aware of the potential devastation that the bullet would cause - I don't think it's just a kid running around taking pot-shots."
Wowzer had been with Mr Blaine's family for six and a half years.
He said the whole family was "shocked" about the sudden and unexpected loss.
"When my kids were growing up it was their family pet, and it's just like someone taking a family member and doing the same thing to them," he said.
"It's horrified all of us. I don't think any of us could believe that someone would do something like this, especially in a fairly nice neighbourhood."
Mr Blaine added that his son had seen a dead cat by the embankment not far from where Wowzer was found, in January.
The family had thought it had frozen to death and thought nothing more of it at the time, but now think it may be related.
Police have been carrying out door-to-door inquiries in the area and have appealed for anyone with information to come forward.
Related Internet Links
The BBC is not responsible for the content of external sites.