Perthshire farm firm fined after worker's barn fall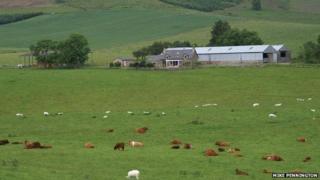 A Perthshire farm business has been fined £12,000 after a worker fell through the roof of a cattle barn.
James Bridge, then 18, suffered a fractured skull and internal bleeding when he fell while clearing gutters at Shealwalls Farm, a farm in the Alyth area run by Messrs Finlay McGowan.
An investigation found the untrained workers had not been issued with instructions and were unsupervised.
The family partnership was fined after a hearing at Perth Sheriff Court.
The incident took place on 15 August, 2012, at one of four farms in the area owned by the family.
Mr Bridge had been lifted onto the roof of the cattle barn by a colleague using a forklift truck.
He had walked to the far end of the roof, stepping over a PVC roof light he knew couldn't bear his weight.
However on his return the teenager did not notice the light, which broke under his weight, causing him to fall three metres onto a feed barrier and a concrete floor.
He was rushed to hospital with a fractured skull, bleeding inside his skull, a laceration above his left eye and bruising to his face.
He was released the next day and has since made a full recovery.
'Entirely avoidable'
The Health and Safety Executive (HSE) investigated, and found that neither worker had been trained in working at height, let alone on fragile work surfaces, and the pair were unsupervised and uninstructed.
They concluded that Messrs Finlay McGowan failed to properly plan and appropriately supervise the work, in breach of statutory Work at Height regulations.
After admitting the charge, the firm was fined £12,000 at Perth Sheriff Court.
HSE inspector Michelle Gillies said the incident was "entirely avoidable".
She said: "The precautions needed to prevent falls from height are basic, inexpensive and easily implemented.
"Messrs Finlay McGowan should have carried out a risk assessment before work started.
"This would have identified hazards as well as measures that would have eliminated or reduced the risks to the health and safety of the partnership's employees."