Stirling Castle skeletons date from independence wars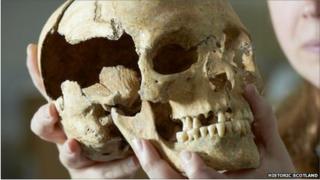 Skeletons uncovered at Stirling Castle reveal the individuals were likely to have died during sieges of the castle during the Scottish wars of independence, experts believe.
Nine skeletons were found at the castle in 1997, inspiring a number of studies and theories about their origins.
Dr Jo Buckberry, a Bradford University battle trauma expert, believes they date from 1296 to 1357.
A talk is to be held at the castle to discuss her findings.
The nine skeletons, which have been broadly radiocarbon dated to the period of the conflict, consist of seven males, one female and a baby.
They were found by a team of archaeologists in the oldest part of the castle still standing, the royal chapel, dedicated to St Michael by King Alexander I in the early years of the 12th Century.
The skeletons had mostly suffered from blunt trauma injuries, with some showing evidence of malnutrition, consistent with periods when the castle was under siege.
Medieval battles
One male skeleton has more than 100 fractures, while the female skeleton has skull injuries consistent with being struck by a weapon such as a poleaxe or mace.
Dr Buckberry said: "The patterns of injury seen in the Stirling Castle skeletons is completely different to what we usually see in the medieval period, when most battles were fought hand-to-hand using swords and other weapons.
"They stand out as different to other skeletal populations associated with medieval battles."
Stirling Castle was besieged repeatedly during the wars of independence, changing hands a number of times between the Scottish and the English.
From the remains, scientists can not tell which side they fought for, although there is evidence they were of high status, given their rich diet and the fact they were buried inside the castle walls.
Dr Buckberry will be on hand at the castle on 24 and 25 May to discuss her findings as part of the Road to Bannockburn event, which includes recreations of military camps, weaponry demonstrations and a sword school.
Lorna Ewing, Historic Scotland's head of visitor experience, content and learning, said the research gave a "fascinating glimpse into castle life".
She said: "The discovery of the nine skeletons at Stirling Castle continues to teach us more about how people lived and died in the castle in the 13th and 14th Centuries.
"Dr Buckberry's ongoing research helps to bring history to life, offering fascinating details about everything from diet to injury and cause of death."