Round the world in 80 days flight takes off from Perth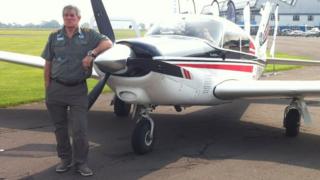 An amateur pilot from Tayside has begun his attempt to fly around the world in 80 days.
Dave McElroy, 66, took off from Perth Airport for the 42,000 nautical mile flight, and hopes to make 52 stops in 25 countries along the way.
The retiree also hopes to raise around £150,000 for Scotland's Charity Air Ambulance, which operates from Perth.
Mr McElroy, who will spend at least 272 hours in the air, said the flight might be "a bit hairy".
But he added that attempting the flight in the small Piper Comanche aircraft was a "privilege", especially since this is only the second time such a flight has ever been tried from Scotland.
Mr McElroy, the chairman of the Scottish Aero Club, will fly across Europe, the Middle East and Asia before heading to Australia, then across the Pacific to the US, South America and the Caribbean.
The list of planned stops includes Israel, Pakistan, Indonesia, Fiji, California, Panama and Newfoundland.
He will end his journey across the Azores and Portugal before eventually touching back down in Perth by 6 August if all goes to plan.
Mr McElroy and his partner Chris Elgar have covered the costs of the trip so that all money raised will go straight to the charity.
Before take-off, he said: "I know it will be demanding, exhausting and perhaps at times even a bit hairy, but there is only a tiny percentage of the world's population that will ever get the chance to see what I'm going to see.
"When I take off today it will be with feelings of both excitement and trepidation - it's a long way round the world in a small plane and who knows what adventures lie ahead along the way."
Mr McElroy is making the trip to mark the first year of operation for the Scotland Charity Air Ambulance. It has so far responded to nearly 300 emergency calls, including road accidents, sporting incidents, equestrian accidents and heart attacks.