Lorry windscreens broken after objects thrown on A90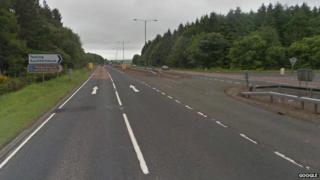 Police are investigating after two lorries had their windscreens broken by objects thrown at them on the A90.
The delivery vehicles were driving south on the dual carriageway between Dundee and Aberdeen at about 02:00 on Tuesday when they were targeted near Tealing.
A combined £600 of damage was caused to the articulated supermarket lorries.
Police have appealed for information after the "reckless and extremely dangerous" incident.
A spokesman for Police Scotland's Tayside division said: "Clearly the throwing of any objects at a moving vehicle is irresponsible, reckless and extremely dangerous.
"By good fortune alone these incidents passed without injury, but the potential for a serious or even fatal road traffic incident to occur is all too apparent."