Trucker says extradition would breach his human rights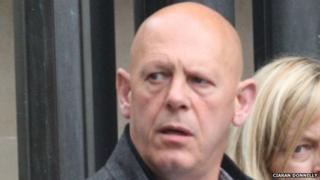 A Scottish lorry driver wanted in Belgium over alleged drugs offences says it would breach his human rights if he were extradited for trial.
Lawyers acting for Perth man Raymond Urquhart say it would breach his right to a family life if he were sent abroad.
The 51-year-old was arrested by Scottish police in March over his alleged involvement in moving cocaine and MDMA across international borders.
He has been allowed bail.
Urquhart's defence team argued at Edinburgh Sheriff Court that he acts as a carer for his elderly mother and partner, both of whom have health problems.
They say sending him to Belgium would leave him unable to do this, breaching his right to a family and private life under article eight of the European Convention on Human Rights.
His mother Heather Mills, 73, who suffers from arthritis and lung disease, told the court it would be "very hard" for her if her son was sent abroad.
"Raymond's been with me for the past 12 years and he's always been in charge of the medicine," she said.
"I've got to have Raymond to go to do the shopping for me. Raymond mostly does the domestic chores as well."
Sheriff Frank Crowe adjourned the extradition hearing to a later date, granting bail in the meantime.
Telephone conversations
Urquhart was detained by Scottish detectives executing a European Arrest Warrant issued by Belgian police in March.
During a short hearing that month, Sheriff Alistair Noble heard how European policemen had listened into telephone conversations that the Scots lorry driver had with a Belgian man who wasn't named in open court.
The court heard that the pair allegedly spoke to each other in September 2013 about a consignment of fruit - but officers believe they were actually talking about drugs.
Two weeks later, drugs squad detectives in the Netherlands seized a large consignment of MDMA, and detectives suspect that the telephone conversation actually referred to this shipment.
The court also heard that when policemen raided the Belgian man's house, they discovered a revolver and more than one kilogramme of cocaine.