Less than half of tickets for Bannockburn Live sold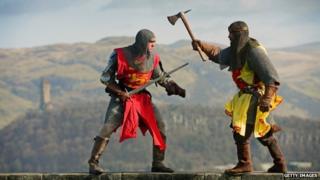 Less than half of the tickets for an event marking the 700th anniversary of the Battle of Bannockburn have been sold.
About 7,000 of the 20,000 tickets available for Bannockburn Live have been sold, with three weeks to go.
Tourism bosses said sales were "on target and selling consistently well".
The weekend of battle recreations, clan gatherings and performances by musicians, artists and comedians takes place on June 28 and 29.
Concerns about poor sales and marketing were first raised in March, after the event was cut from three days to two and the number of tickets available scaled back to 20,000, rather than the 45,000 originally planned.
However Caroline Packman, director of VisitScotland's Homecoming 2014 programme, said sales were in line with expectations.
'On target'
She said: "Ticket sales for Bannockburn Live are on target and selling consistently well in all our markets both in the UK and overseas.
"We saw a large increase in sales following the Quest for Bannockburn programme on BBC 2 Scotland, showing the real appetite there is for this significant period in history, and we expect interest and numbers to rise considerably as we move closer to the event.
"We have an exceptional line-up for Bannockburn Live including talented and well-known musicians, authors, artists, clans people, living history specialists, performers, foodies and of course, warriors.
"We are on track to deliver an absolutely incredible, memorable event and we urge people to get their tickets now to avoid disappointment."
Hundreds of actors playing warriors and camp followers will re-create the 1314 battle at the event.
The "brutally realistic" display will take place three times each day, with battles choreographed by Clanranald, who worked on Hollywood blockbusters including Gladiator, Robin Hood and Thor 2.
Almost 40 clans from across Scotland and elsewhere in the UK will converge to mark the occasion, while Julie Fowlis, Dougie MacLean, Karine Polwart and Rachel Sermanni are among the musicians appearing.