Church lead thieves 'stealing from Scotland's poorest'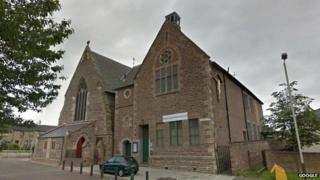 Police are investigating the theft of lead from a church roof in Dundee.
Saint Salvador's Church was first targeted by thieves on the night of 30 May, before they returned on 2 June to finish the job.
Thousands of pounds worth of damage has been done to the roof and it is feared the listed building's ornate interior could be damaged by leaks.
The church rector said the thieves were "stealing from some of the poorest people in Scotland."
A pair of thieves climbed a drainpipe early in the morning on 30 May to access the roof between the church hall and the church itself, before stripping lead from an area of roof.
The two men dropped the lead into the back yard of the church before realising they had been caught out by motion-sensor lighting and CCTV cameras, and escaped with just one tile of lead - having caused "considerable damage" to the Category A listed building.
The thieves returned three days later, again scaling a drainpipe to the roof under cover of darkness despite security measures put in place after the first theft, and this time stripped the roof of ten lead panels, each measuring 5ft (1.6m) by 2ft (60cm).
'Splendid interior'
Saint Salvador's has been ministering to the people of the Hilltown area of Dundee for more than 150 years.
Church rector the Reverend Clive Clapson said the thieves were "stealing from some of the poorest people in Scotland".
"It's a listed building, unique in Scotland, especially for its splendid interior," he said.
"Water ingress would immediately destroy sections of the interior which would be a loss not just to us but to Scotland.
"We're in one of the most deprived urban areas in Scotland - our ministry is to people who are not well off.
"We have a food programme in the afternoons that feeds up to a hundred people."
He added: "This is not a victimless crime - basically these people are stealing from some of the poorest people in Scotland as well as risking our cultural heritage."