Stirling swimming pool mural saved from demolition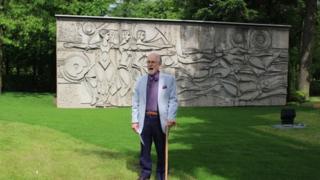 A mural saved from demolition when a Stirling swimming pool was torn down as been unveiled at its new home.
The concrete semi-abstract artwork used to adorn the wall of the Stirling Provost's Pool, known locally as Rainbow Slides.
Following a public campaign, it was saved at the last minute when the pool was demolished earlier this year.
It has now been put back together at the headquarters of Ogilvie Group, the company which built the pool in 1975.
Local residents had protested when it emerged the Charles Anderson artwork was to be torn down along with the pool building, which had lain disused since closing in 2008 after part of the ceiling fell in.
Directors at Ogilvie stepped in to fund and manage the recovery of the mural, but engineers had just three days to conduct the operation to remove it from the Goosecroft Road pool.
The wall - which is 11m long and 3.7m tall - was cut into five sections after being propped up by supporting beams, with steel lifting frames fixed to the rear to allow workmen to saw it up and carry the sections away using a crane.
The mural was then re-assembled at Ogilvie's headquarters on Glasgow Road, prominently displayed on the road into Stirling.
Group chief executive Duncan Ogilvie was pleased the firm had been able to help preserve the mural.
He said: "We are delighted to have been able to save the mural and position it where it can still be enjoyed by the local community.
"The Provost's Pool was originally built in 1975 by Ogilvie and since then the mural has been a prominent and easily recognisable public artwork that is part of Stirling's rich history."