Dundee International Book Prize shortlist announced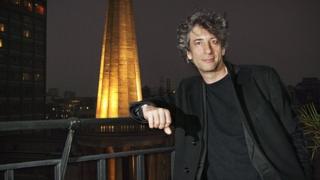 Novice writers from across the world have made the shortlist for the Dundee International Book Prize.
Author Neil Gaiman and broadcaster Kirsty Lang are among the judges for the prize, which includes a book deal and £10,000, the largest cash award for unpublished work in the UK.
Works from debut novelists in the UK, Ireland, New Zealand and the United States made the shortlist of 10, from more than 400 original entries.
The winner will be named in October.
Extracts of the top 10 will shortly be published in print and e-book formats to allow book lovers to pick their own favourites for the prize, a collaboration between the University of Dundee, Cargo Publishing and Dundee City Council's "One City Many Discoveries" campaign.
Literary Dundee director Anna Day said she was "truly staggered" by the quality of entries from across the globe.
"Each year, I'm amazed by the creativity and effort people put into their writing and we've loved reading them and bringing together a shortlist of ten books," she said.
'Strong entries'
The winning book will be published by Cargo and joint managing director Gill Tasker said she was "delighted" with the "strong entries from all over the world".
"Our congratulations go to all the finalists and we're very excited at the prospect of publishing the winner later this year," she said.
The 10 entries on the shortlist are: "A Village Drowned" by Sheena Lambert of Dublin; "Some Things the English by Rachel Fenton of Auckland, New Zealand; "Ida" by Amy Mason of Bristol; "Daughters of the House of Love" by Veronica Birch of the West Country; "Under the Tamarind Tree" by Rosaliene Bacchus of California; "The Open Arms of the Sea" by Jasper Dorgan of Wiltshire; "The Dreaming" by Suzy Norman of London; "Out Like a Lion" by Robin Martin of New York; "Cats in a Pipe" by Lora Hughes of Yorkshire; and "Sea Never Dry" by Ben East of Virginia, USA.
Last year's winner was "In the Rosary Garden", a crime thriller by Irish writer Nicola White, which impressed a judging panel including Dundonian Hollywood star Brian Cox and TV presenter Lorraine Kelly.
The 2014 shortlist will now be whittled down to three finalists before the eventual winner is announced at a gala dinner during the annual Dundee Literary Festival in October.