Delays after train strikes object on Tay Rail Bridge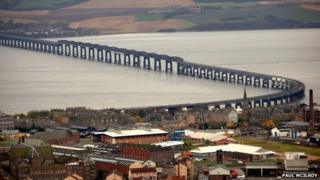 A passenger train has made an emergency stop after striking an object on the Tay Rail Bridge.
The East Coast service between Aberdeen and Leeds was halted for an hour after colliding with a metal grating at about 19:35 on Wednesday.
The train was checked over before continuing to Edinburgh, where passengers were transferred and the train taken in for inspection.
Network Rail and East Coast have launched an investigation.
British Transport Police staff from Dundee were also called to the scene at the Fife end of the bridge, but concluded that there were no suspicious circumstances.