Toxic blue-green algae warning at Dundee reservoir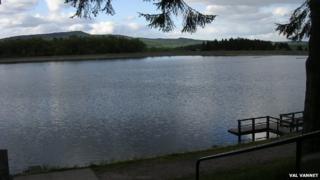 Members of the public have been warned to stay away from a reservoir in Dundee after high levels of blue-green algae were recorded.
The algae, which can release toxins causing skin rashes and potentially serious stomach upsets and muscle pain, has been detected at the Clatto Reservoir in the north of the city.
People are advised to avoid the water and keep their pets away.
Anyone affected by the toxins should contact their GP.
The algae is naturally occurring, but in high concentrations it can multiply to cause blooms which then release toxins. The behaviour of the algae is erratic and the levels of toxicity can fluctuate as it is dispersed by the wind.
Vari McDonald, the depute environment convener for Dundee City Council, said local authority officers would continue to monitor the quality of the water.
She said: "Due to the high concentrations of blue-green algae, parents are advised to be vigilant with their children and dog owners should prevent their dogs from drinking the water."
Warning notices that have been posted in the area will be taken down when the hazard has passed.