Wife to bury Black Watch soldier after legal battle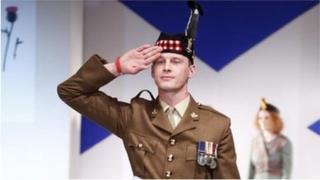 The wife of a Black Watch soldier has won the right to bury him after a drawn-out legal battle with his mother.
Pte Mark Connolly died in May 2011 after a bar fight in Germany, but his family fell out about whether he should be laid to rest in Forfar or Fife.
The 24-year-old's body has been held in a London morgue for the past three years.
He will now be buried in Forfar after his wife Stacy won a long-running court battle.
Pte Connolly, originally from Methil, served in Afghanistan and survived in a Taliban bomb blast in 2009 which killed a 3 Scots colleague.
He died after being punched in the face by fellow soldier Paul McKay during a pub fight while they were stationed in Germany.
Pte McKay, 27, was later cleared of manslaughter after a court martial heard he acted in self-defence.
Pte Connolly's body has been held at a morgue ever since, due to a falling-out between his wife Stacy and his mother, Linda McComskie, who wanted him buried beside his grandfather in East Wemyss, Fife.
A three-day civil proof at Forfar Sheriff Court heard Ms McComskie describe Stacy as being "jealous" of her "close relationship" with her son, accusing the widow of trying to "dictate" the terms of the service.
However Mrs Connolly insisted her husband had named her executor in his will after their wedding in 2009, but changed it after a senior officer wrongly told him he could not.
The court has now ruled in favour of Mrs Connolly, who wants her husband buried in a "colourful service" in the Angus town where they lived.