Balado 'golf ball' satellite station for sale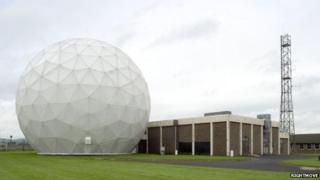 A former Nato "golf ball" style communications facility at Balado, near Kinross, is for sale.
The decommissioned structure is surrounded by 3.36 hectares of land which was used as an airfield during World War Two.
The site, which is now made up of offices and storage buildings, has an asking price of £1.1m.
The "golf ball" is a landmark well known to visitors to the nearby T in the Park music festival.
RAF Balado Bridge opened in 1942 and remained open until 1957.
Following its decommission as an RAF station, the site served as a Nato satellite communications site which was opened by Princess Anne in 1985.
It was decommissioned in late 2006, and has been used for commercial purposes ever since.