Huge crowds attend Armed Forces and Bannockburn events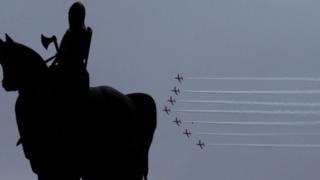 Tens of thousands of people turned out for events celebrating Armed Forces Day and the anniversary of the Battle of Bannockburn at the weekend.
An estimated 35,000 people were in Stirling for Armed Forces Day, while 20,000 attended the sold-out Bannockburn Live event nearby.
Stirling's Big Weekend also featured a pipe band competition and a night of street entertainment.
The prime minister and first minister both heaped praise on local organisers.
David Cameron and Alex Salmond were both in the city for Armed Forces Day, along with Princess Anne, Labour party leader Ed Miliband and defence secretary Philip Hammond.
A parade of 1,000 veterans joined cadets and serving personnel in a march from Stirling Castle to the events grounds, where crowds were treated to displays of military vehicles and live demonstrations.
The Red Arrows performed a display to close the event, which led Armed Forces Day celebrations around the country.
A council spokeswoman said 35,000 people had visited the outdoor events arena, with tens of thousands more estimated to have watched from the embankment of Stirling Castle.
The Bannockburn Live battle re-enactment event sold out, with 10,000 people turning out both on Saturday and Sunday despite earlier fears about poor ticket sales.
Some spectators complained about long queues as the Battle of Bannockburn was recreated by hundreds of actors three times a day.
About 40 clans from across Scotland and the world gathered for the occasion, which also featured live music, an interactive genealogy exhibit and recreations of medieval military camps.
The event marked the 700th anniversary of the Battle of Bannockburn in 1314 which saw Robert the Bruce and his outnumbered army triumph over Edward II.
Live music and entertainment was hosted on the streets of Stirling through Saturday evening, as part of Stirling's Big Night Out.
And 1,600 pipers and drummers from around the world gathered in the city for Pipefest on the Friday.
Prime Minister David Cameron praised the city and the organiers.
He said: "Stirling put forward a very good bid to host the Armed Forces Day national event, and they've delivered in style.
"It's a great setting and there's a great turnout."
First Minister Alex Salmond, who attended both Armed Forces Day and Bannockburn Live, was also full of praise.
He said: "Stirling has taken centre stage this weekend with a number of high-profile events.
"The city's rich history, beautiful landscapes and attractions have captured the imagination of those who have travelled from far and wide to be here and celebrate one of the biggest weekends in Stirling has ever seen.
"And, in this year of Homecoming, we are showcasing the very best of Scotland - something we have certainly achieved this weekend."