Police rifle accident was 'negligent and preventable'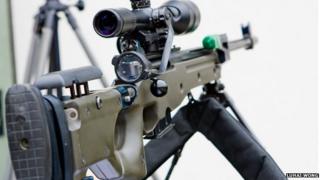 A watchdog has criticised police after an officer was injured when a rifle was accidentally fired during training.
Police Scotland officers were taking part in the drill at the Barry Buddon military ranges near Carnoustie on 28 April when the weapon was discharged.
The bullet struck a brick wall and debris caused a slight injury to another police officer.
The Police Investigations and Review Commissioner deemed the incident "negligent and preventable".
The incident took place shortly before 11:00 on Monday, 28 April, when a Police Scotland officer accidentally fired an Accuracy International 7.62 rifle.
Commissioner Professor John McNeill said the incident would not have happened had the force's stringent firearms safety procedures been followed.
He said: "An inspection of the weapon by a firearms specialist found no faults. The only way that the incident as described could be duplicated was by pulling and holding the trigger to the rear and at the same time disengaging the safety catch.
"It follows therefore that the discharge was negligent and preventable."
Several recommendations have been made by Armed Policing Training to further strengthen procedures.