Funding pledge for new sports centres across Scotland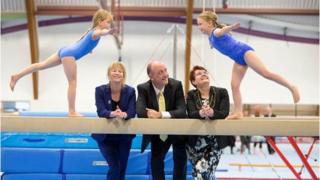 New sports facilities are to be built across Scotland as part of a new £20m investment programme.
Sportscotland is to fund centres which will be available to local residents as well as professional athletes.
A regional performance centre will be built in Dundee, after the city made a strong bid to host the new national sports centre, which went to Edinburgh.
Facilities could also be built or redeveloped in Inverness, Stirling and at Meadowbank in Edinburgh.
Sportscotland will work alongside local authorities and sporting bodies to deliver the new projects.
Highland, Tayside and Fife, Ayrshire, Edinburgh, Stirling and the Borders have all been identified as areas which could benefit from the new funds.
Proposed work includes the regional performance centre in Dundee, regional facilities in Inverness, developments at The Peak sports complex in Stirling, and a redevelopment of the Meadowbank Sports Centre in Edinburgh.
The new facilities will complement the £30m National Performance Centre for Sport, which should be completed at Edinburgh's Heriot-Watt University campus by 2016.
'Significant milestone'
Sportscotland chief executive Stewart Harris said the funding would "further enhance" sports centres in Scotland, which are already "the best they have ever been".
He said: "We have capitalised on Glasgow 2014 by accelerating our plans for a world-class sporting system at every level thanks to National Lottery and Scottish government funding.
"Today's £20m investment announcement is a significant milestone in delivering even more excellent sporting facilities for the people of Scotland and performance athletes to use.
"The National and Regional Facilities Investment will provide more and better opportunities for people of all ages and abilities to take part in sport and physical activity."
The work is a continuation of the national regional sports facilities strategy, which has previously seen £44.3m of investment from sportscotland and £300m from local authorities, resulting in centres including the Aberdeen Sports Village, the Sir Chris Hoy Velodrome, Tollcross Aquatics Centre, the Emirates Arena and the Dick McTaggart Gymnastics Centre.
Sportscotland is funded by the Scottish government and the National Lottery.