Commonwealth Games athletes and fans head for Tayside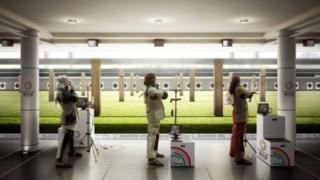 Hundreds of athletes and thousands of spectators are heading to Tayside for the 2014 Commonwealth Games.
Dundee and Angus will host the biggest Commonwealth Village outside of Glasgow, with 500 athletes and team officials gathering in the area.
Carnoustie may be best known for its championship golf course, but is to host the shooting competitions at the Barry Buddon military base.
It is hoped the event will provide a tourism boost for the local economy.
The Ministry of Defence rifle ranges at Barry Buddon were also used in the 1986 Games, which were hosted in Edinburgh.
The site's 21 ranges are capable of supporting small arms, heavy machine gun and medium mortar fire, and will remain fully operational for infantry training during the games.
Events to be hosted there include the full-bore, clay target, pistol and small-bore rifle shooting competitions.
A new pistol firing range has been built and temporary shotgun ranges set up at the 2,600-acre site, especially for the games.
Thousands of spectators are expected to attend the shooting events from 25 to 29 July.
The Carnoustie Golf hotel and the Apex Hotel at Dundee's City Quay have been closed off amid heavy security to house athletes, coaches and team officials from about 40 different countries until the end of the month.
'Local hospitality'
Commonwealth Games Minister Shona Robison is also a local MSP in Dundee, and she said it was a "great boost" for the area.
"The athletes and staff will enjoy great local hospitality while competing at Barry Buddon," she said.
"This is the biggest Village outside Glasgow and thousands of spectators are expected, so it'll provide a boost to the local economy and is a huge opportunity to showcase the base of Dundee and Angus to visitors from around the Commonwealth."
Angus Provost Helen Oswald added that the area was "delighted" to be a host venue.
She said: "Spectators, athletes and games officials can look forward to a warm welcome from everyone in Angus and we look forward to sharing our rich heritage with them."