Prince Charles visits Glendelvine squirrel sanctuary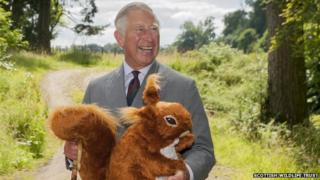 The Prince of Wales has heard about efforts to protect the red squirrel during a visit to a Perthshire estate.
Prince Charles was at the Glendelvine Estate near Dunkeld to learn how the recovery of the species is being helped by the trapping of grey squirrels in the area.
The native red squirrel is increasingly under threat from invasive greys.
The Prince and his wife, the Duchess of Cornwall, are in Scotland for a week of engagements.
The estate has been working with the Scottish Wildlife Trust on their Saving Scotland's Red Squirrels campaign since 2009.
Thanks to their trapping, grey squirrels, which originate from North America, are rarely seen on the estate, allowing the local reds to flourish.
Since 1952, 95% of red squirrels in England and Wales have been wiped out by competition from greys for food and habitat, and the deadly squirrelpox virus, and 75% of the remaining population is found in Scotland.
'Vital project'
The Prince saw a grey squirrel trap in operation during his tour of the estate, and was presented with a handmade red squirrel toy as a gift for his grandson Prince George's first birthday.
Known in Scotland as the Duke of Rothesay, Prince Charles also attended a reception for the Scottish Wildlife Trust's 50th anniversary at Murthly Castle, near Perth, and visited Balhousie Castle.
Allan Bantick, chairman of the Scottish Wildlife Trust, said he was "extremely grateful" to the Prince for his visit.
"This project is vital to ensuring red squirrels are still visible in the landscape in 50 years time and can be enjoyed by future generations," he said.
The Duke also took a tour of the redeveloped Black Watch Regimental Museum, being Royal Colonel of the regiment and a patron of the Black Watch Royal Highland Regiment Association and the Black Watch Heritage Appeal.
The Duchess, meanwhile, was in Edinburgh visiting the Shortbread House bakery on Tennant Street.