Police bravery award for men who foiled knifepoint robbery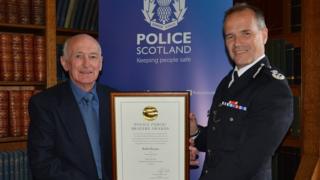 Two men who tackled a knife-wielding teenager have been recognised for their bravery by police.
Robin Rennie, 73, and Roy Benson, 64, took on the youth when he tried to rob Mr Benson's shop in Perth in June 2013.
They wrestled the "aggressive" raider to the floor and pinned him there until police arrived. He was later sentenced to 30 months in a Young Offenders Institution.
Mr Rennie and Mr Benson were presented with Police Public Bravery Awards.
They were nominated for the Association of Chief Police Officers award after the incident on 20 June last year.
Mr Benson was working in his shop, Benson's Newsagents in Perth, when he was visited by Mr Rennie, who was delivering merchandise.
The men were chatting at the counter when they noticed the teenager entering the shop and loitering before leaving again.
When he returned five minutes later and headed straight for the counter, Mr Rennie stepped back, thinking he was a customer waiting to be served.
Instead he waved a knife at Mr Benson, demanding alcohol and money.
The shopkeeper grabbed the robber's wrist and pressed the personal attack alarm beneath the counter.
Mr Rennie then grabbed the raider and the pair wrestled him to the floor, throwing the knife out of his reach as he lashed out.
Another member of the public entered the shop and called the police, while Mr Benson and Mr Rennie kept the teenager pinned to the ground.
'Tremendous courage'
Presenting the awards, Chief Constable Sir Stephen House said the pair had shown "tremendous courage" in the face of the "aggressive" teenager.
He said: "The knife used was a large sharp kitchen paring knife which would have been more than capable of inflicting serious injury.
"With no CCTV at the premises, the detection of this crime could have been more challenging had Mr Benson and Mr Rennie not reacted as they did.
"Their actions ensured that a dangerous criminal has been prevented from committing further crimes, resulting in the community of Perth being a safer place."