Leading games designer to head Dare ProtoPlay festival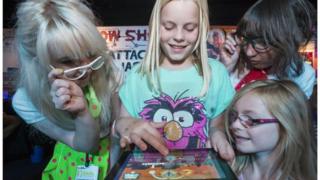 A renowned games designer is to lead the line-up at Scotland's biggest video games festival in Dundee.
Richard Lemarchand was lead designer on all three games in the successful Uncharted series on the PlayStation.
He will give a talk and chair a discussion panel at Dare ProtoPlay, which also features 15 student games created for the Dare to the Digital competition, and experimental games from new independent companies.
The festival runs from 7 to 10 August.
Mr Lemarchand was a lead games designer at California games company Naughty Dog for eight years, and worked on all three games released so far in the Uncharted series.
He is currently a professor of games at the University of Southern California, and will give a talk at Protoplay about the cultures and identities that will shape the technology, business and art of future games.
The free Abertay University festival, which attracted 13,000 visitors last year, will also feature the UK premiere of a documentary about the art of games design called Us and the Games Industry.
'Inspiring innovation'
Mr Lemarchand, who is featured in the film, will chair a discussion panel after it is shown.
He said he was "delighted" to be attending the festival.
He added: "Dare to be Digital and Abertay University are known around the world for inspiring innovation and excellence among young game designers, and I can't wait to see the creative games and take part in the fun that will make up this year's festival."
Prof Louis Natanson, head of the school of arts, media and computer games at the university, said it was a "real honour" to have a designer of "international standard" speaking at ProtoPlay.
He said: "The Uncharted games were huge critical and commercial successes, and showed how strong the role of the designer should be in developing any game, whether that's designing levels, characters, narrative or thinking more broadly about a player's entire experience.
"We're fascinated to hear Richard's thoughts about the future of games and to show the UK premiere of Us and the Games Industry - we expect both to be very popular events."