Captain admits sailing cargo ship up Tay while drunk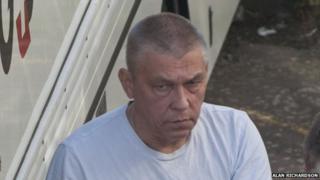 A drunken sailor has admitted piloting a 1,300 tonne cargo ship down the Tay while almost four times the alcohol limit.
Andrejs Borodins, captain of the 250ft container ship Frifjord, was arrested after a pilot at Dundee harbour came aboard and found him incoherent and staggering around drunk.
A sheriff told the 53-year-old there had been a "very high" risk of him sailing into one of the Tay bridges.
Sentence was deferred until next month.
The Frifjord, which is registered in the Bahamas, set off from Perth bound for Norway on Monday last week.
Dundee harbour pilot Barry Nisbet came aboard at Balmerino to help guide the vessel through the shipping lanes at the Tay bridges, but found Latvian national Borodins incapable of steering the ship.
The first mate had to come to the wheel while Borodins retired to his cabin to sleep off his intoxication, and Mr Nisbet called harbour officials who notified police.
The ship docked at Dundee, and police took a breath test from Borodins before taking him to police headquarters.
'Endangering lives'
Defence solicitor John Kydd said Borodins' employers were standing by him, but said he would have to "face his wife and explain himself" when he got home to Latvia.
Borodins pleaded guilty on indictment to a charge under the Railways and Transport Safety Act 2003.
Deferring sentence for reports, Sheriff Alasdair Brown told Borodins: "The possibility of you running aground, of colliding with one of the two bridges, endangering the lives of your crew, or having an accident in which the waterway was blocked must have been very high.
"The risk of environmental damage to the Tay, which is important to the economy and ecology of Scotland, must have been high.
"You had to be relieved of your command because you were a menace. You had a breath alcohol level within touching distance of four times the limit.
"This is a very serious offence and a sentence of imprisonment is a real possibility - indeed it is a probability."