Human remains discovered during development site dig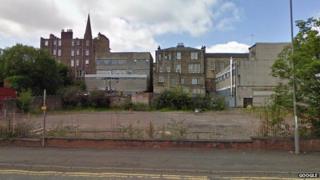 Excavation works at a Stirling city centre development site have uncovered centuries-old human remains.
At least one skeleton was uncovered at the site opposite Stirling railway station during an archaeological dig which is being carried out prior to a housing development.
It's thought the remains, at the site of a Dominican friary, date from the 1400s or early 1500s.
The body was found in what would have been the friary's graveyard.
Archaeological excavation work at the Goosecroft Road site was ordered as part of the planning permission granted for the site, which is to host affordable housing, commercial and retail space.
The remains were uncovered by staff from GUARD Archaeology on Friday.
Records show that the site provided the base for a Dominican friary, founded in 1233 and destroyed during the Reformation in 1559.
'Living history'
Stirling Council archaeologist Murray Cook said the find was "exciting and totally fascinating".
He said: "Because it is the graveyard rather than the friary itself, the remains are probably those of an ordinary member of the Stirling public rather than the 'great and the good', who were more likely to have been buried within the friary walls.
"For Stirling this is the first time a medieval cemetery has been subject to modern excavation on this scale and this is real living history being brought into the light."
Stirling Council's housing portfolio holder Violet Weir added: "The development of this key city centre site is clearly important, but it is also important that we preserve and protect the city's rich past in the way that is happening now in the excavation phase of the project.
"It's not often you get the chance to come almost literally face to face with the past in this way."