Pilot back in Scotland after 59,000 mile global journey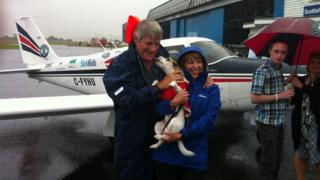 An amateur pilot has touched down in Perth after a 59,000 mile journey around the globe in a single-engine plane.
Dave McElroy, from Stirling, passed through 25 countries including Israel, India, Australia, Cuba and the United States along his epic voyage.
The 67-year-old completed the final 824 mile hop from Reykjavik to Perth airport 81 days after setting off.
Mr McElroy made the flight in support of Scotland's Charity Air Ambulance.
The pilot, a former president of the Scottish Aero Club, completed the journey in his single-engine Piper Comanche, the first time a global aerial circumnavigation has been staged from the east of Scotland.
Friends, family and fellow aviators joined local MSP John Swinney and Perth and Kinross provost Liz Grant in welcoming Mr McElroy back to Scottish soil.
Aircraft from SCAA lined the taxiways, while two fellow members of the aero club flew out and accompanied the global traveller along the final few miles.
'Extremely brave'
Gavin Davey, chief executive of the charity air ambulance service based at the airport, said the challenge was "one of the bravest and most selfless undertakings" he had ever witnessed.
"We are always surprised and humbled by the lengths people go to in order to support us, but Dave has undertaken the ultimate challenge and we can't thank him enough," he said.
"Dave has stretched himself and his tiny single engine aircraft to the limits of their endurance.
"He's encountered obstacles such as military coups, equipment glitches, air traffic control difficulties and extreme heat and cold to achieve his goal."
Mr McElroy has been accompanied in the cockpit since Goose Bay, Canada, by 19-year-old student pilot Michael Rose from Forfar, who secured his seat on the final leg of the adventure by raising funds for SCAA.
Welcoming committee member Graeme Hammond said Mr McElroy was "a real hero".
"You have to not only be a very skilled pilot and expert organiser, but also extremely brave as well," he said.
"There are more people who have orbited the earth than have flown a single engine aircraft around the world.
"He has achieved something truly remarkable."