William Wallace public artwork denied Lotto UK funding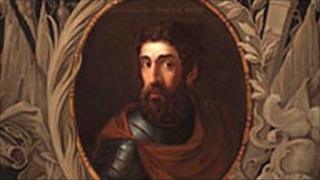 A bid for lottery money to create a public artwork at the site of one of Scotland's most famous victories over England has been turned down.
The Guardians of Scotland Trust wants to mark William Wallace's victory at the Battle of Stirling Bridge in 1297.
Creative Scotland promised £137,000 to the bid if its funding was matched.
But the Lotto UK body responsible for preserving and promoting Scotland's history declined to take part, citing concerns about partnership funding.
The Battle of Stirling Bridge was famously depicted by Mel Gibson in the Hollywood blockbuster Braveheart.
It is feared the project to put a permanent artwork at the site will collapse if the funding shortfall of £72,000 cannot be found by 23 August.
Leading historian Sir Tom Devine criticised the decision by Heritage Lottery Fund (Scotland) not to mark the victory led by Wallace and Sir Andrew de Moray.
He said: "The Battle of Stirling Bridge is second in importance only to Bannockburn in the Wars of Independence.
"It is imperative that the location should therefore be marked in a suitable fashion."
'Blank canvas'
The Guardians of Scotland Trust, which is made up of historians and politicians from a number of parties, is urging the public to boycott the National Lottery for a week and donate £4 to the scheme.
Spokesman John Robertson said: ""At the moment, there is nothing at the north side of Stirling Bridge to mark this important historical event. Tourists come looking for information to this site on the outskirts of Stirling and are met with a blank canvas.
"We believe this project has been discriminated against in the lead up to the referendum. This is a leading heritage initiative and not a political project.
"In keeping with the Trust's aims, it has cross-party support. This project aims to present the first physical commemoration to Andrew de Moray anywhere in the world."
HLF (Scotland) said it had been "concerned about the level of confirmed partrnership funding" for the Stirling project.
A spokeswoman said: "We realise this is disappointing news for everyone involved with the project. HLF's assessment of this application took place in the usual way. We are continuing to receive more applications than can be supported.
"Whilst we recognise the importance of the heritage that the Guardians of Scotland project plans to explore, we did have concerns about the level of confirmed partnership funding.
"There were also a number of other applications which offered better value for money in a highly competitive round of decision-making."