Abuse probe school rated 'weak' by Education Scotland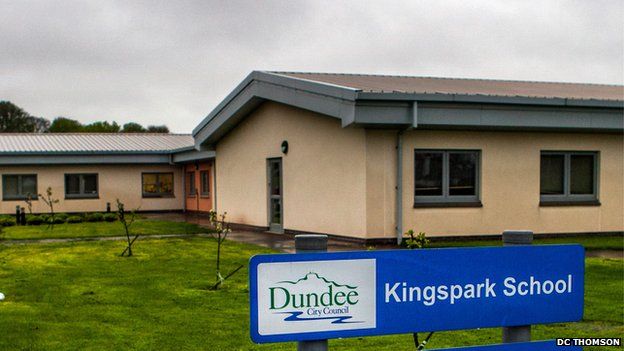 A Dundee school which was investigated over abuse claims has been graded "weak" by inspectors.
Watchdog Education Scotland ruled Kingspark School, which caters for pupils with special support needs, was "weak" in two out of five areas.
The school was backed in an independent probe earlier this year after some parents claimed pupils had been abused.
City council education convener Stewart Hunter said an action plan has been put in place and was progressing.
Kingspark has a roll of about 175 pupils who have special educational or support needs, and in some cases physical or medical problems.
Independent education consultant Alastair Marquis was called in to investigate earlier this year after a group of parents claimed their children had come home from the school with bruises.
He made a number of recommendations to improve procedures, but said there was "no cause for concern" for pupil safety.
Education Scotland inspectors also visited the school earlier this year, and evaluated it as "weak" for "meeting learning needs" and "improvement through self-evaluation".
They gave the school "satisfactory" ratings for the curriculum, "improvements in performance" and "learners' experiences".
Managing inspector Olwynne Clark said: "The school has adopted positive approaches to supporting children and young people with challenging behaviour.
"However, these planned strategies are not always effective in ensuring that other learners are safe from harm from other children and young people.
"The school needs to take positive and prompt action to review how it manages the challenging behaviour of a few children and young people.
"A small but significant number of families have expressed on-going concerns about their children's health and safety in the school.
"Staff need to ensure that all parents are consulted and fully involved in decision making about how their children are supported, and that they understand how the school responds to their concerns and complaints."
The report recommended staff are given extra training, and also called for leadership to be improved "at all levels".
An area lead officer from the national body will work with the council to improve the school, and inspectors will be back in the school to check on progress inside the next 12 months.
Dundee City Council's education convener Stewart Hunter said the authority was working on improving "home-school communications, aspects of dealing with challenging behaviour and mechanisms for supporting parents and others to raise any concerns".
He said: "Progress is already being made on an action plan, which is supported by a partnership group, to take forward key points from an independent review into Kingspark School.
"Several meetings with a small number of families have also been held to discuss directly with them the points they raised in their complaints.
"The education department and staff at the school are also now working to ensure that recommendations from the Education Scotland inspection report are implemented."
Related Internet Links
The BBC is not responsible for the content of external sites.