Ryder Cup: Fans urged to check tickets are genuine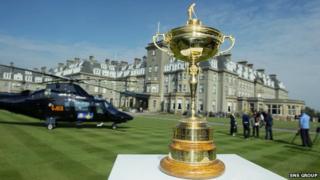 Spectators planning to attend the Ryder Cup at Gleneagles have been urged to check the source of their tickets.
It comes after a small number of fakes were uncovered.
The free-to-use Ticket Check website enables customers to enter their details and confirm tickets were purchased from a valid source.
Police Scotland said it was aware of the matter and that a "very robust ticket scrutiny process" was in place at the event.
All Ryder Cup tickets are strictly non-transferable and can be traced back to the original purchaser,
Customers with tickets from an unauthorised seller will be turned away at the security check point.
Match director Edward Kitson said: "Our first priority is to protect members of the public and in particular the security of those on site. Those who arrive at the event with an invalid ticket will be refused entry.
"To avoid any disappointment, we'd strongly urge all ticket-holders to use the Ticket Check service before arrival."