Loose moose Hercules captured after second escape bid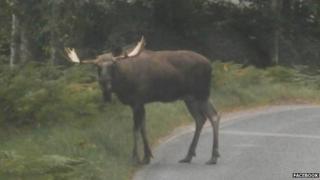 Hercules the missing moose, who went on the run twice in a week, has been caught.
The six-year-old bull moose got loose in Highland Perthshire after breaking out of his enclosure at Pitcastle Estate, near Pitlochry, on Saturday.
Police and Perth and Kinross Council joined the hunt for the beast, which was sighted up to 30 miles from home.
However, a spokesman for Pitcastle Estate confirmed that Hercules had now been found.
It's thought Hercules escaped in search of a mate after his partner at the estate died.
The moose (or Eurasian elk) is the largest living species of deer. In America the word "elk" is used to refer to a different animal, the wapiti.