Ryder Cup: Tourism bosses hail global tournament impact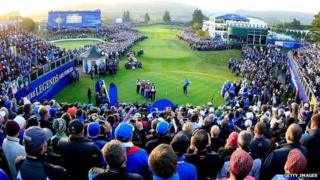 Hosting golf's Ryder Cup was the equivalent of a £40m free advert for Scotland, tourism bosses say.
VisitScotland has developed a worldwide £2m marketing campaign to reinforce the country's status as the "home of golf" in the wake of the tournament.
It is estimated hosting the event at Gleneagles created jobs for 5,000 people, while the images of Scotland beamed out across the world were worth up to £40m in direct marketing benefit.
Europe beat the USA by 16½ to 11½.
Crowds of about 45,000 golf fans packed Gleneagles for each day of play, with many travelling from across the world to be in attendance.
Scotland currently attracts 220,000 golf tourists a year, while 92,000 other visitors play golf while on holiday.
VisitScotland chairman Mike Cantlay said the event could be a "launchpad" for future success.
"Scotland has shown through the Commonwealth Games and the Ryder Cup that we can win any global sporting, business or cultural event and that we have the infrastructure, security and event management capability to host everything from the smallest conference to a world-class sporting spectacle," he said.
"Our American friends have been especially gracious about the result and we know that they will return soon to Scotland.
"After this week, more Americans than ever see Scotland as the home of golf, and increasingly, their home from home."
First minister Alex Salmond was also full of praise for how the Gleneagles tournament was delivered.
He said: "This event has had the finest facilities, the warmest welcome to thousands of people from around the world, and - with condolences to our US friends - the best of outcomes.
"There can be no better advert for Scottish tourism."