Van lost wing mirror in Kippen cyclist hit and run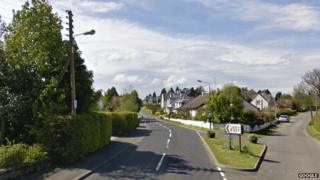 Police have released new information in the search for a hit and run driver who seriously injured a cyclist.
The 47-year-old man was cycling towards Kippen on the B822 Fintry road at about 13:45 on Saturday when he was struck by a van similar to a flatbed truck.
The van was white with writing on the doors, and lost a wing mirror in the collision.
Police Scotland officers have appealed for anyone who may have seen the vehicle to come forward.
The cyclist was taken to Forth Valley Royal Hospital following the incident, about 50m west of the village.
The flatbed van was travelling away from Kippen, in the opposite direction to the cyclist.
Sgt Roddy MacMillan of the Forth Valley Road Policing Unit said: "We are hopeful that some motorists on the B822 on Saturday afternoon may remember seeing the white flatbed van and could have some information which may help our enquiries.
"Significantly, the front offside wing mirror was knocked off during the collision and so it is possible that, in recent days, members of the public have seen a white van with only one mirror.
"The cyclist involved in this incident suffered serious injuries, and we are obviously very keen to establish the exact circumstances of what happened."