Woman jailed for slashing killer mother Theresa Riggi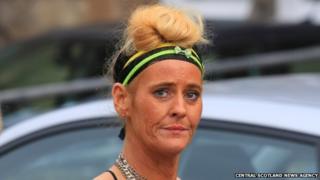 A woman who attacked killer mother Theresa Riggi with a razor blade while in prison has been jailed for two years.
Angela Hamilton was convicted of sneaking into Riggi's cell at Cornton Vale Prison in Stirling and slashing her face repeatedly.
The 40-year-old claimed she entered the cell to shout for help.
Riggi, who was jailed after admitting killing her three young children, was found dead earlier this year.
Hamilton, who was behind bars for perverting the course of justice during her brother's murder trial in 2009, sneaked into Riggi's cell at the all-women prison after breakfast on 19 November, 2011.
She grabbed Riggi by the hair and struck her in the face "repeatedly" with a razor blade, leaving her in a pool of blood with a chunk of her hair torn out.
She was then caught on CCTV calmly walking back to her own cell as guards rushed to Riggi's aid.
Hamilton denied responsibility for the attack, but was found guilty after a two-day trial at Stirling Sheriff Court.
Sheriff William Gilchrist dismissed Hamilton's claim that she had gone into the cell to call for help, saying: "I saw the recording of her going into the cell - there is no question of her seeking assistance for Miss Riggi."
Riggi was in the first year of a 16-year sentence imposed for killing her three young children in Edinburgh in August 2010.
Eight-year-old twins Austin and Luke and their sister Cecilia, five, were each stabbed eight times before Riggi, originally from California, tried to cover up their deaths with a gas explosion while attempting suicide by leaping from the window of the second-floor flat.
The family had moved from Skene, Aberdeenshire, the previous month following the breakup of Riggi's marriage to the children's father.
Sheriff Gilchrist said she was in a "very vulnerable position" at the time of the attack.
Following the attack at Cornton Vale, Riggi, 50, was moved to Rampton Secure Hospital in Nottinghamshire, where she died from bronchial pneumonia in March.