Sandy Lyle joins field as World Hickory Open tees off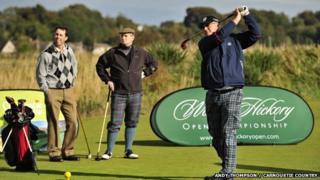 A golf tournament using only historic hickory-shafted clubs has teed off in Carnoustie.
Former Open and US Masters champion Sandy Lyle is among 100 players from across the world competing at the Hickory Golf Open at Panmure Golf Club.
The tournament requires players to use clubs manufactured before 1935, or replicas of that style.
Many of the competitors also choose to dress in golf attire reminiscent of the hickory era.
The World Hickory Open was established in 2005, and has been contested in Angus for the last three years, with the Montrose Medal and Carnoustie Burnside courses previously hosting it.
Mr Lyle, who represented Europe at five consecutive Ryder Cups in the 1970s and 80s, has been playing hickory golf for three years.
He said he was "really looking forward" to the Panmure tournament.
World Hickory Open founder and director Lionel Freedman said he was "absolutely delighted" to have "a golfer of Sandy Lyle's calibre" competing.
He said: "The majority of competitors will be playing with pre-1935 golf clubs.
"For a few, this will be their first time playing golf using hickories, while other are highly experienced.
"But whether novice or expert, they all share a common bond - a passion for golf in its truest form, which they will certainly experience when they play Panmure, widely considered to be one of the top 100 courses in the world."
The two-day tournament has a prize fund of £3,000, thanks to sponsorship from the World Golf Teachers' Federation.
A Ryder Cup-style tournament between players from the USA and the rest of the world will also be held in Monifieth following the Open.