White rhino born at Blair Drummond park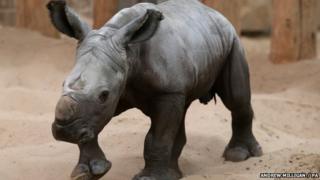 A white rhino has been born at Blair Drummond Safari Park near Stirling.
Bruce is the fourth southern white rhino calf born to mother Dorothy at the park.
While the species is not currently endangered, it is threatened by poachers due to a high demand for rhino horn in Asian markets.
The new arrival was delivered weighing almost 50kg (8st) after a 494-day pregnancy. He could grow to weigh four tonnes.
Bruce's birth in the early hours of Sunday morning was broadcast around the world via webcam.
Keepers said Dorothy had been showing signs of labour since July after a pregnancy lasting more than 16 months.
Bruce will live with his mother and another female, Lucy, for several months before being introduced to his father Graham in the spring.
He is expected to gain about 10kg every week during his first two years.
Chris Lucas, team leader for large mammals at the safari park, said it was "quite tricky" to breed the animals in captivity, but warned that the species was "vulnerable".
"At the moment southern white rhinos aren't classified as endangered, but with poaching increasing at the moment there's something like one rhino being killed every 12 hours," he said.
"Last year something like 1,000 individuals ended up being poached.
"They're at a point where at the moment I think the population is still, just, increasing but it will soon go into a decline because of the demand from the Asian markets for rhino horn products."