Montrose goose migration record broken twice in a week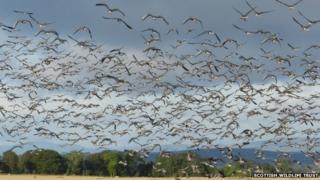 The record for the number of pink-footed geese flocking to Montrose Basin has been smashed for the second time in a week.
Volunteers counted a record 70,153 geese at the Scottish Wildlife Trust reserve last week.
And a new survey as part of the Icelandic Breeding Goose Census has now recorded 78,970 birds at the site.
The geese have migrated 1,200km (745 miles) from Iceland and Greenland for the winter.
The previous record, set in 2010, saw 65,060 geese arrive at the Angus reserve.
The Icelandic Breeding Goose Census is being carried out at more than 120 sites across the UK, Ireland, the Faroe Islands and Norway.
Ten volunteers carried out the latest count at Montrose on Sunday.
Scottish Wildlife Trust reserve manager Rab Potter said it was hard to know how long the geese would remain in the area in such large numbers.
He said: "The number of pink-footed geese at Montrose Basin this year has taken all of us by surprise.
"Currently, pink-footed geese outnumber people in Montrose by almost seven to one."
Around 372,000 pink-footed geese spend the winter in the UK, thought to be about 90% of the world's population.