Woman who mistreated animals given back dogs and sheep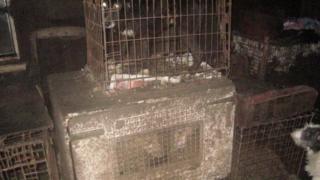 A pensioner convicted of mistreating dozens of animals has had 12 of them returned to her.
Ann Wynd was convicted on 29 counts of keeping dogs, sheep and ponies in "deplorable conditions" at her home near Falkirk.
The 75-year-old was earlier banned from keeping animals for three years, except for four dogs and four sheep.
A sheriff placed a supervision order on Wynd for three years, but allowed her to have four more animals back.
A four-day trial earlier this year heard how officers from the Scottish SPCA discovered emaciated dogs crammed into cages crusted with inches-thick filth in Wynd's living room, while "very thin" animals were also found in "filthy" conditions in sheds outside.
The animals were seized by the animal welfare charity, and several had to be put down.
Wynd denied 29 charges of causing unnecessary suffering to animals including 19 dogs, two donkeys, a sheep, three Shetland ponies and a Welsh cob, but was found guilty.
Despite being banned from keeping animals for three years at an earlier hearing, she was allowed to take four dogs and four sheep home.
And having heard that Wynd had made "improvements" to the area where she kept sheep, Sheriff Derek O'Carroll allowed for a further four animals to be returned.
He said it was still not suitable to return eight Shetland ponies which had been seized, but said he would review the banning order on 22 December.
As well as remaining under social work supervision, as part of her community payback order Wynd must allow qualified vets to inspect her animals and property.