Dundee Airport boosted by Ryder Cup private jet flights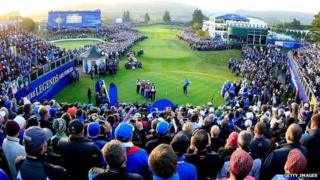 Private jets flying in for the Ryder Cup at Gleneagles boosted passenger numbers at Dundee Airport.
However, the city airport saw passenger numbers fall by 0.4% year-on-year during September, against a drop of 14.4% in the quarter.
The airport currently only offers flights to London Stansted airport after other routes were withdrawn.
A total of 7,232 passengers flew through Dundee between July and September, down from 8,453 last year.
The number of people using the airport has been falling for several years, with previous services to Belfast and London City airport cancelled.
A spokesman for operator Highlands and Islands Airports Limited said uptake at the airport had been "much better" during the golf tournament in Perthshire, which fans travelled from around the world to attend.
He said: "A good performance on the Stansted route and the impact of private jet traffic using Dundee as a gateway to the Ryder Cup resulted in a much better performance in September, with passenger numbers down by 0.4% on the previous year."
The government-funded HIAL group, which operates 11 airports in locations including Inverness, Stornoway and Wick, saw total passenger numbers decline by 0.5% on the previous year across the quarter.
Almost half of its 398,353 passengers flew through Inverness.