Aberfeldy WW1 museum project boosted by wind farm funds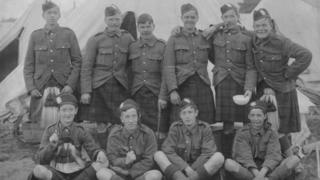 A museum celebrating Aberfeldy's World War One heritage is to be set up using funds from a local wind farm.
The Breadalbane Heritage Society is developing its first exhibition telling the story of local people and the 6th Black Watch Battalion.
Artefacts of local significance will be on show at the Breadalbane Community Campus while a suitable location for a permanent museum is identified.
Scottish and Southern Energy has contributed £30,000 to the project.
The Griffin and Calliachar wind farm community fund operated by SSE has committed to providing approximately £450,000 to projects in the local area every year.
The museum is the first ever to be based in Aberfeldy.
Its first exhibition, of local war mementos, has been gathered through donations from local residents and the Perth Museum and Art Gallery.
Anne Beeson of the Breadalbane Heritage Society said the area had a "rich history", with military involvement running back to the historic roads built by General George Wade in the 1730s,
She said: "Aberfeldy has a strong connection to the Black Watch Regiment and the historic roads of General Wade, with a wealth of local artefacts to support this.
"The grant from the wind farm fund has allowed us to commission specialist cabinets to showcase important pieces, and begin the first stage of the Aberfeldy Museum which we have been championing for some time.
"Breadalbane Heritage Society is delighted by this significant development and looks forward to progressing the next step of the wider museum project."
Ciara Wilson, a community investment adviser with SSE, said: "This exhibition will be a wonderful tribute to the community's role in World War One and an exceptional educational resource for future generations.
"As a responsible community member, SSE is excited our renewable energy developments are helping projects like this one and also the planned new museum which it's hoped will increase tourism and reinforce Aberfeldy's place on the Highland Perthshire heritage map."
The exhibition at the Breadalbane Community Campus is scheduled to open in February 2015.
A "digitisation day" for local residents, families and schools to bring forward local war relics is to be held at the campus on Saturday, 15 November between 10:00 and 13:00.