NHS Forth Valley medic joins Ebola mission in Africa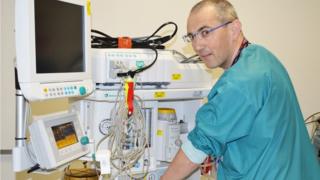 An emergency medical consultant from NHS Forth Valley has joined a mission to Sierra Leone to tackle the Ebola outbreak.
Dr Roger Alcock, who works at Forth Valley Royal Hospital in Larbert, will join other medics who have volunteered to assist in Britain's £125m aid package to combat the disease.
The outbreak has killed almost 5,000 people in West Africa.
Dr Alcock will join staff at an Ebola treatment centre in Port Loko.
He said "urgent medical help" was needed to combat the "humanitarian crisis".
He said: "It is important that we control and contain the virus to prevent its spread out-with West Africa.
"I have the training and experience to be able to go to Sierra Leone and have received tremendous support from colleagues, friends and family."
'Devastating impact'
More than 50 Scottish health workers have already volunteered to go to the region to help respond to the spread of the disease.
Scottish health secretary Alex Neil said it was "inspiring" to see Scots doctors volunteering to go abroad.
He said: "The Ebola outbreak has had a devastating impact on some of the world's poorest communities, and the courage and dedication of people like Dr Roger Alcock is playing a key role in the effort to bring the disease under control."
Before deployment Dr Alcock will complete nine days of intensive training with the British military and UK-Med followed by further specific Ebola training in Sierra Leone.
He said: "I wouldn't be human if I didn't have concerns, because Ebola is a serious disease.
"However, I will be having world class Ebola-specific training and will deploy as part of a well-resourced and experienced British military and civilian partnership team."