Stirling Castle to host war of words in 'flyting' show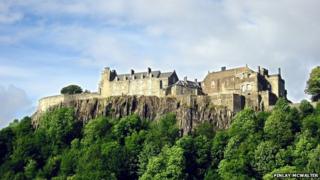 Stirling Castle is to host a recreation of the 16th Century equivalent of a rap battle - flyting.
The original war of words, flyting sees bards face off in a heated exchange of poetic simile, metaphor, learning and alliteration.
A re-enactment of a 1504 clash between two of James IV's makars, William Dunbar and Walter Kennedy, is to be held in the castle's Great Hall.
Friday's battle will be decided by a vote of the court.
The event was created in partnership with Scotland's History Festival, and will see visitors welcomed to the castle by a Renaissance musician before the display of flyting, a practice which is though to date back to medieval times.
Experts from the Scottish Language Dictionaries will be on hand to analyse the battle of the bards.
'Explosive language'
Alison Stalker, Historic Scotland's assistant events and filming manager, said: "This truly unique event will see a traditionally Scottish genre of poetry brought into the 21st century.
"Visitors will have the opportunity to experience a battle through the use of language, quick quips and witty remarks in addition to learning more about the famous flyting of Dunbar and Kennedy, whilst hearing expert post-fight analysis."
Susan Morrison, festival director of "Previously... Scotland's History Festival", added: "James IV was a remarkably cultured patron of the arts who encouraged his craftsmen, painters and poets to reach new levels of creative achievement.
"The Great Hall is the perfect setting for this fantastic performance of this wonderful art form, with its particularly Scottish trait of high-flow imagery and explosive language."