Stirling city centre shops and flats project under way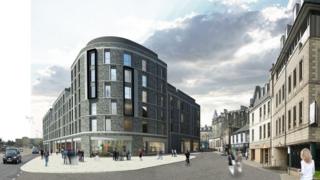 Work has started on a new housing and retail development in the heart of Stirling city centre.
Stirling Council has invested £8m in the six-storey block being built on vacant land at Goosecroft Road, opposite the city railway station.
The development will include three ground-floor retail units and 53 one and two-bed apartments.
Work is scheduled to be complete by Christmas 2015, with the "affordable" flats available shortly after.
In August, ground excavation works at the development site uncovered centuries-old human remains.
An archaeological dig was carried out at the site, which housed a Dominican friary from 1233 to 1559.
Ground has now been broken for the housing and commercial development, which Stirling Council housing convener Violet Weir said would provide "much-needed affordable housing" for the city.
Head of Housing Tony Cain added: "This project will transform a derelict site on the edge of the city centre conservation area and provide Stirling with a striking new modern building."
The development will include a public art installation celebrating the work of ground-breaking animator Norman McLaren.
The project is a joint development between the Stirling Development Agency and the council's joint venture housing company Steadfast Homes, which will rent out the properties at mid-market rates.
Council Leader Johanna Boyd said: "The planned building is attractive and contemporary, and includes design elements that are sensitive to Stirling's historical setting.
"This is another excellent example of the Council working with our partners to provide jobs and investment in the Stirling area."