Body was that of missing marine Luke Ireland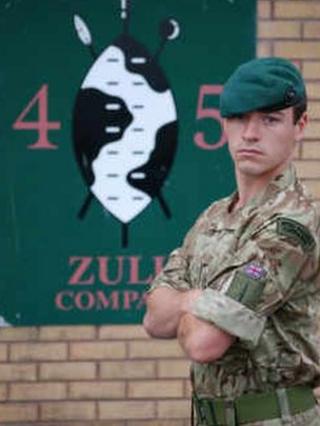 Police have confirmed that a body found in the Angus Glens was that of a missing Royal Marine.
An extensive search was carried out for Luke Ireland, 20, from Monifieth, who went missing after going for a run in the Glen Clova area on Thursday afternoon.
His body was discovered on Friday. Those searching included 250 Royal Marines and Army commandos.
The death is not being treated as suspicious.
Mr Ireland was on leave from RM Condor in Arbroath.
Lt Col Dan Cheesman, commanding officer of 45 Commando Group said: "We are deeply shocked and saddened by the early death of Royal Marine Luke Ireland in the mountains of Glen Clova, Cairngorm, Scotland on Friday 14 November.
"Although every effort was made by Tayside Police, five Mountain Rescue teams, three rescue dogs, search helicopters and 250 Royal Marines and Army commandos, the rescue attempt, in appalling weather, was unsuccessful.
"I am truly humbled by and grateful for the selfless actions of all those who took part, reacting with such great speed and incredible professionalism."
He said Mr Ireland joined the Royal Marines in September 2012 and excelled in his role as a general purpose machine gunner.
'Exceptional commando'
"He revelled in taking part in 45 Commando's recent exercise in California and was looking forward to deploying to Belize to conduct jungle training in the New Year," Lt Col Cheesman said. "He hoped to qualify as a Royal Marines mountain leader.
"Luke's insatiable sense of humour, enthusiasm, popularity and moral courage made him an exceptional Royal Marines commando. He will be forever remembered.
"His loss is a significant blow to 45 Commando and the Royal Marines. Our thoughts and prayers are with Marine Ireland's family and friends at this difficult time."