Dundee cookery scheme for elderly to be extended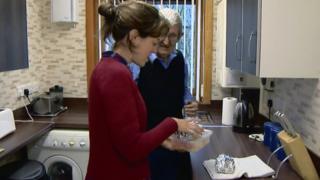 A pilot project being run in Dundee to help tackle malnutrition among older people is proving so successful it is hoped it will extend across Scotland.
The Meal Makers scheme matches a volunteer cook with an elderly person through a website.
After checks are carried out, the cook prepares an extra portion of food once a week to take to the "diner" they have been paired with.
The scheme will be rolled out in Glasgow in the new year.
The Food Train charity, which runs it, hopes it will then extend across Scotland over the next two years.
Art student Fiona McAndrew was the first cook to sign up to the scheme.
"It's so easy to make a change in someone's life. So why not do it?" she said. "It just takes a couple of hours in your week.
"You don't even have to do it every week, you can just do it whenever you can. It just makes such a big difference."
Fiona has been cooking for pensioner Norman Quigg who lives alone in sheltered housing in Dundee.
He does cook for himself but Fiona's weekly meal with its Spanish influence is introducing the retired cleaner to new tastes.
"It gives me food I wouldn't normally be making for myself," he said. "I don't like fancy foods or spices or pizzas or anything like that, I prefer basic foods and that's the kind of food Fiona brings me and I think it's worked out quite well."
'Enjoy the company'
But the Meal Makers project is about more than providing an occasional meal for older people. It also aims to prevent them becoming isolated.
Norman appreciates the weekly visit from his cook.
"The likes of Fiona coming from Spain, I find out wee tit bits about Spain," he said. "I just enjoy the company."
The day I visited Norman, Fiona had cooked him hake, a popular fish in Spain.
Fiona had dipped it in egg and coated the fish in flour before frying it. The fish was accompanied by boiled potatoes, carrots and peas. It met with Norman's approval.
However, Fiona's suggestion of drizzling a little olive oil over the vegetables was politely declined, much to her amusement.
Meal Makers is being run as a pilot project in Dundee.
In its first few weeks nearly 50 cooks signed up and there has been interest from other parts of Scotland too.
Emma Black is the project leader.
"A lot of elderly people are malnourished within Scotland and this is a way of getting good, home-cooked food into their houses and getting them eating properly," she said.
"The other problem we have is the social isolation aspect. A number of elderly people don't see people from day to day.
"So having that person volunteer and come in and bring a good meal and have a sit down and a chat, it has a huge impact on people."