Campaign to attract hospitality to Dundee waterfront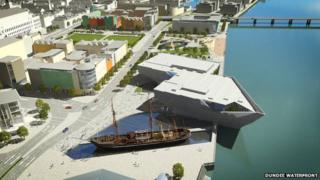 A campaign to attract more hotels, restaurants and cafes to Dundee's waterfront is to be launched.
Dundee Waterfront bosses said more hospitality businesses are "urgently" needed as a £1bn regeneration of the area progresses.
When completed, it is estimated the city's waterfront will attract an extra 300,000 visitors a year.
A campaign supported by local businesses and national bodies will tour Aberdeen, Glasgow and Edinburgh.
The waterfront redevelopment includes the construction of the V&A Dundee museum, a new city railway station, an urban park, a marina at City Quay and new residential, office, leisure and recreational developments.
Dundee City Council's city development convener Mike Galloway said land covering a total of one million square feet had been released for development in the central waterfront this year, with a further 500,000 sq ft to follow in 2015.
The British Hospitality Association in Scotland is backing the campaign, and executive director Willie MacLeod said Dundee had the potential to become a "great hospitality city".
He said: "We estimate that Dundee already supports around 6,500 direct and 3,000 indirect hospitality jobs, representing more than 13% of city employment.
"A wealth of new business opportunities will emerge from the growing hospitality, tourism and leisure industries, stimulated by the waterfront initiative and the V&A Dundee development."
Dundee Waterfront director Allan Watt added: "We need more businesses in advance of the surge in visitor numbers and spending that will accelerate in the next year or so.
"We would encourage entrepreneurs to engage with the business opportunity by opening new restaurants, bars, cafes and bistros."