Dundee Lorry driver wins more than £1m in EuroMillions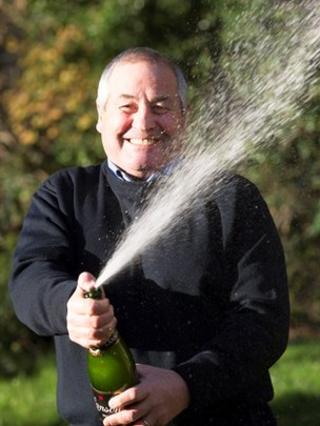 A lorry driver from Dundee has retired early after winning more than £1m in the Euromillions lottery.
Raymond Storey, 61 , bought the winning ticket from a supermarket in the city on Friday 28 November
The 'Mega Friday' draw offers winners the chance to add a trip to Australia, Peru or Brazil to the £1m prize or a cash alternative.
Mr Storey chose to take the additional £50,000.
He told his bosses that he was bringing forward his retirement from August 2015.
'Head spinning'
The early retiree discovered he had the winning ticket the morning after the draw when he decided to check his numbers online while enjoying a breakfast cup of tea.
He said: "I found out I was a millionaire at 06:00 and I decided to retire at 06:02
"I had two lines on my ticket with two raffle codes. I realised the end of one code matched a winning combination; however I still didn't think I had won.
"I checked the raffle code three times then ran up the stairs to tell my wife. My head was spinning."
The 61 year old added: "I'm a lucky man. It's wonderful to know that I can enjoy my retirement secure with the freedom to do what I want.
"I've not decided to buy anything in particular - I'm just looking forward to living my life as I please."