Stirling Council 'proud' of annual report advances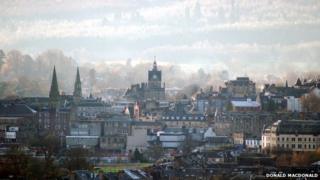 Stirling Council has hailed "significant advances" made over the past year in its annual report for 2014.
In the past year the council has broken household waste recycling targets and led Scotland in introducing free childcare.
The authority also identified savings of £10.7m from the £29m needed over the next five years.
The report will go before councillors on Wednesday.
It notes that Stirling became the first council in Scotland to introduce the new standard of 600 hours per year of free childcare, and also brought in the living wage four months ahead of schedule.
The authority broke another Scottish government target by recycling 53.4% of all household waste, above the 50% benchmark.
Six housing projects totalling 86 new homes were completed during the financial year, and the authority helped tenants and homeless people access more than £2.3m in previously unclaimed benefits.
'Challenging economy'
The council also approved plans to make cuts totalling £10.7m, more than a third of the £29m of savings needed over the next five years.
Consultations will be held with communities over the savings still to be made.
Chief executive Stewart Carruth said the authority was dealing with an "increasingly challenging economic environment".
He said: "Continuing financial strictures and changing demographics mean demand for our services will increase as budgets continue to tighten.
"We must challenge ourselves further to become a more adaptive and efficient organisation, better connected to our communities, partners and stakeholders, and better able to deliver even more for Stirling in the years ahead."
Council leader Johanna Boyd said she was "proud" of what the authority had achieved in 2014.