Inquest opens over death of tycoon Scot Young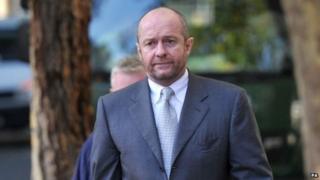 An inquest has been opened into the death of Dundee property tycoon Scot Young.
The 52-year-old died after falling four storeys on to railings outside his penthouse flat in London on 8 December.
The court heard that Mr Young died at the scene at Montagu Square, Marylebone, of "multiple injuries" following his fall.
The first hearing of the inquest was held at Westminster Coroner's Court. It was adjourned until 12 January.
The body of Mr Young, who was raised in the Stobswell area of Dundee before making his fortune as a property developer, was identified by his brother-in-law, Guy Van Ristell, and further details were given by Sasha, one of his two daughters.
There had been speculation in the media that Mr Young could have been the victim of Russian criminal gangs after business deals went sour but the coroner heard that police are treating the death as non-suspicious.
Legal battle
In March, a High Court hearing was told that Mr Young's estranged wife Michelle had still received no money from the £20m settlement she was awarded last year.
A judge had assessed Mr Young - who was jailed briefly during the six-year legal battle for refusing to hand over financial information to his wife - to be worth £40m, although he insisted he was bankrupt with debts of £28m.
Mrs Young described the payout as a "disgrace", insisting her former husband was worth "billions" and had hidden vast sums in offshore accounts.