Man admits attempted murder in Denny taxi rank attack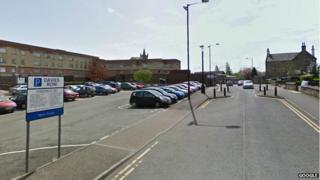 A violent criminal has admitted attempting to murder a man at a taxi rank in Denny.
Gregor Thomson, 26, repeatedly kicked, stamped and jumped on the head of his unconscious victim in the attack in September.
Desmond McCart was so badly hurt, surgeons had to use 14 plates to reconstruct his face.
Thomson admitted attempting to murder the 56-year-old at the High Court in Edinburgh, and sentence was deferred.
The court heard that Thomson, a prisoner at Low Moss jail at Bishopbriggs with seven previous convictions for assault, got into an argument with Mr McCart as the older man tried to get into a taxi at Davies Row on 28 September.
Unemployed Thomson knocked his victim to the ground with a punch before jumping and stamping on his head.
He then ran off shouting that he had "battered a guy", asking for help burying his victim.
Severe injuries
Mr McCart was found covered in blood, having suffered fractures to his eye sockets, cheek bones, jaw and nose.
When police arrived they put him in the recovery position, but found he had stopped breathing.
An officer administered CPR and managed to get him breathing again. A surgeon told the court that his injuries were so severe he would have died had he not received immediate medical attention.
He had previously looked after his wife, who is unwell, but the court heard that Mr McCart now needed a team of carers to help him with basic tasks including standing up and walking.
Thomson admitted attempting to murder Mr McCart by assaulting him to his severe injury, permanent disfigurement and impairment and to the danger of his life.
Remanding Thomson in custody until sentencing next month, Lady Scott told Thomson him he faced "a substantial period of imprisonment".
She added: "I consider, on the evidence before me, you may be a serious risk of harm to the public in general."