Helix visitor centre work to start alongside Kelpies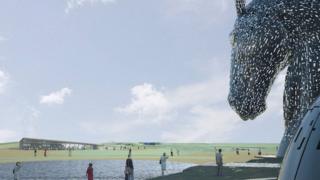 Construction of a £1.45m visitor centre at Falkirk's Helix park is to get under way in the new year.
Maxi Construction has been chosen to carry out the work, which will begin on 12 January in the shadow of the Kelpies statues.
The new centre will include a restaurant, retail area, visitor information and facilities and an audio-visual experience.
The £43m Helix parkland project has already won several national awards.
The project, on land between Falkirk and Grangemouth, includes one of the UK's biggest pieces of public art in the Kelpie horse-head sculptures.
It has also created a large new public green space, a kilometre of new canal and towpaths, a lagoon and a 16-mile (26km) cycle route around the area.
Park bosses estimate that 800,000 people have visited the site since the Kelpies were launched in April.
The visitor centre building was designed by Dundee architects Nicol Russell Studios following an international design competition.
It is designed to merge into the surrounding landscape using grass mounds and landscaped roof panes, providing visitors with an uninterrupted view of Andy Scott's 98ft (30m) tall, 300-tonne sculptures.
It was originally hoped that the centre could have opened in 2014, but Falkirk Council said securing full funding had delayed work on the building.
Culture, leisure and tourism spokesman Adrian Mahoney said the facility should now open in late summer 2015.
He said: "It's taken some time, but I'm pleased that plans for the new visitor centre at the Helix Park seem to be back on track.
"It will provide welcome new facilities to the park to deal with the huge numbers of people visiting the site to see the awesome Kelpies."